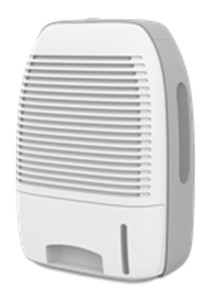 550ml Thermo-Electric
Peltier Dehumidifier
Powerful Mid-Size Dehumidifier for space up to 2,200 Cubic Feet, Noise is lower than 42dB
Collects approx. 18.0 oz. (550ml) humidity per day
Thermo-Electric Cooling Technology does not required compressor
Idea for Smaller Room, Closet, Bedroom, Basement etc.
Removable 44.4-oz. (1500ml) Water Tank & Washable Air Filter
"Tank Full"" Indicator Light and auto shut-off
Unit size: 8.7 x 6.3 x 11.8 inch, AC120V, 60Hz, 40W"







Master Carton: 6 unit
Master Carton Weight and Cube: 34.1 Lbs/ 3.08 cuft
Master Carton Size: 20.7 x 18.7 x 13.8
Unit Carton Size: 9.1 x 6.7 x 13.0
Pallet/ 40'/ 40H Ctnr Qty: 132/ 1,944/ 3,990
Shipping Point: Zhongzhan, China/ Pomon, CA
UPC Code: 6-30326-31055-4